Side Menu Ends, main content for this page begins
Back to Side Menu (includes search)
Welcome New THS Principal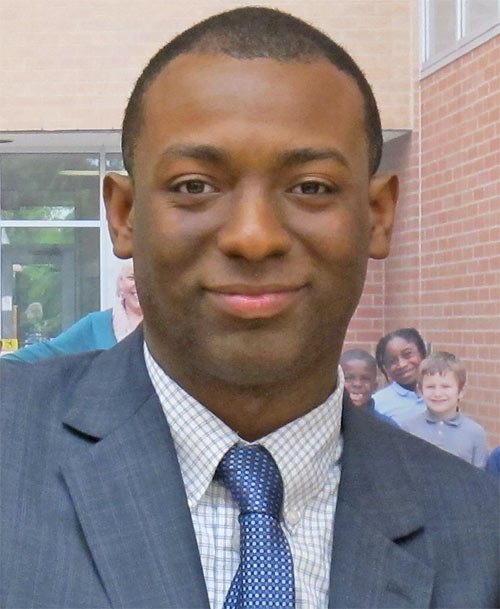 Taylor High School will soon welcome their new Principal, Mr. Ceair Baggett.
Ceair Baggett is currently the Principal for Ethel M. Taylor Academy, a Cincinnati Public School serving preschool through 6th grade. Taylor Academy is a Title 1 School, located in the Cincinnati neighborhood of Millvale. Before his time at Ethel M. Taylor, Mr. Baggett served as Assistant Principal for Cincinnati Public Schools (Robert A. Taft Information Technical High School and Gilbert A. Dater High School).
Mr. Baggett has a long relationship with Cincinnati Public Schools, not only as an administrator, but as a student as well. A proud product of Cincinnati Public Schools, he attended Midway Elementary and College Hill Elementary before graduating from Taft Information Technology High School. Upon his high school graduation, he received the Cincinnati Bell scholarship.
To begin his career, Mr. Baggett enrolled as a full-time college student at Xavier University (Cincinnati, Ohio) majoring in education. Through his scholarships and academic achievements, Mr. Baggett was hired as an Operational Administrator for Cincinnati Bell while attending undergraduate school.
After receiving his Bachelor's Degree in Education, Mr. Baggett continued his professional endeavors at Xavier, acquiring a Master's in Education Leadership.
Mr. Baggett has numerous accomplishments and has received several awards in his professional career. Most notably, in his first year as Assistant Principal, Taft High School went from a Continuous Improvement rating to Effective on the school Report Card! More notable awards Mr. Baggett has received include the James N. Jacobs Administrator of the Year Award and was a finalist for the Hawkins Award (see both articles below).
https://www.westernsouthern.com/hawkinsaward/finalists.asp
http://www.cincinnatusassoc.org/news/featured-stories/104-021717-salute-to-excellence-in-education.html
"I am determined to accomplish the many goals I have set for my continued education, my future family and my community." ~Ceair Baggett``