Side Menu Ends, main content for this page begins
Back to Side Menu (includes search)
THS Career Academies Receives Donation
Posted on: November 24, 2021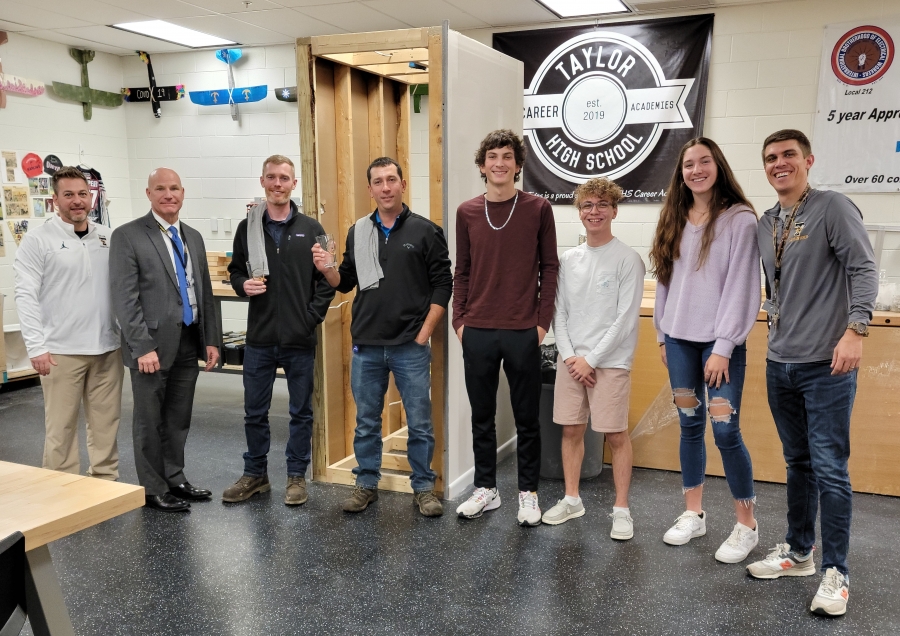 In 2019, Taylor High School started a Career Academies Program to focus on the trades for students to explore post-secondary options that might not require a college degree. Mr. Bryan Kestner, who was then working as a middle school social studies teacher, was interested in teaching the Academy as he is a woodworker in addition to being an educator.
Mr. Kestner hit the ground running and started creatively finding ways to purchase resources to support the courses. During the 2019-2020 school year, Mr. Kestner had 64 students enrolled and was offering Middle School Career Exploration, Aviation 101, and Pre-Apprenticeship Electric. By the next school year, Mr. Kestner had almost doubled student enrollment with 102 students taking Career Academy courses, as well as adding Aviation 201 and The Passion Project to the course list.
Word continued to spread, and Mr. Kestner's passion for Career Academies was the driving force behind increased enrollment and course offerings this school year. 202 students are currently enrolled in Career Academies, and Mr. Kestner added Aviation 301, Home 101, and Rise Up to the Academy.
With impressive growth came an immense need for resources to support student opportunities. Kestner actively looks for grants and donations to help with materials. Recently though, he was presented with a donation that will help to enhance the Career Academies and grow it to the level of professionalism he has hoped for.
Dr. Mark Ault, Superintendent of Three Rivers Local School District, met with Miami Fort Power Plant Manager Joe Riestenberg to discuss the state of the school district. During the discussion, Dr. Ault mentioned Taylor High School Career Academies and their need for resources. Miami Fort is dedicated to supporting the surrounding community and took an interest in the opportunity.
On Nov. 19, 2021, Miami Fort Power Plant graciously presented a $15,000 donation to be used to continue improving opportunities for students in Taylor High School Career Academies.
When asked about the donation, Mr. Kestner stated, "I was completely blown away. I am so proud of these courses and, while we have made a lot of progress already, know that we still have so many more opportunities to give these students experiences that can shape their future. With this generous donation, I am able to take our program to a whole new level. I am truly grateful for Miami Fort and thankful that Mr. Riestenberg and Mr. McCarthy took time to come to Taylor High School to see firsthand the work we do in the Academies."
Anyone interested in donating to the Taylor High School Career Academies can email Mr. Kestner at bkestner@trlsd.org.