Side Menu Ends, main content for this page begins
Back to Side Menu (includes search)
Three Rivers Welcomes New Treasurer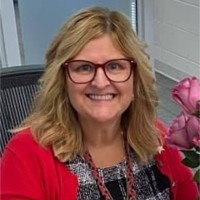 On May 3, 2022, the Three Rivers Board of Education voted unanimously to hire Teri Riesenberg as our new Treasurer. Mrs. Riesenberg has served as the Assistant Treasurer at Princeton City Schools since 2016.
Mrs. Riesenberg has managed the implementation of new accounting and payroll software, prepared 5-year forecasts, managed investment accounts, worked with auditors, managed revenue, and assumed many additional roles and responsibilities in her role at Princeton. She gained all of this experience under the tutelage of Three Rivers' former Treasurer Christine Poetter who provided exemplary service to the District. Her experience in the Treasurer's Department will help with a smooth transition into Three Rivers.
In addition to the Treasurer, the department currently consists of Dan Carle (Payroll) and Lori Nelson (Accounts Payable). Together, both Dan and Lori have over twenty-two years of experience in the Three Rivers Treasurer's office equipping them with an extensive background and understanding of school finances. They both will be essential in supporting Teri through the onboarding process.
We welcome Mrs. Teri Riesenberg to the Three Rivers School Community and would like to additionally thank Mr. Thomas Lowe and Southwest School District for graciously accepting an interim role while Three Rivers conducted a Treasurer search and through our transition. Mrs. Riesenberg's contract with Three Rivers will begin on August 1, 2022, and she will begin transitioning in the weeks and months ahead.