Side Menu Ends, main content for this page begins
Back to Side Menu (includes search)
Thank You, Laura Graham!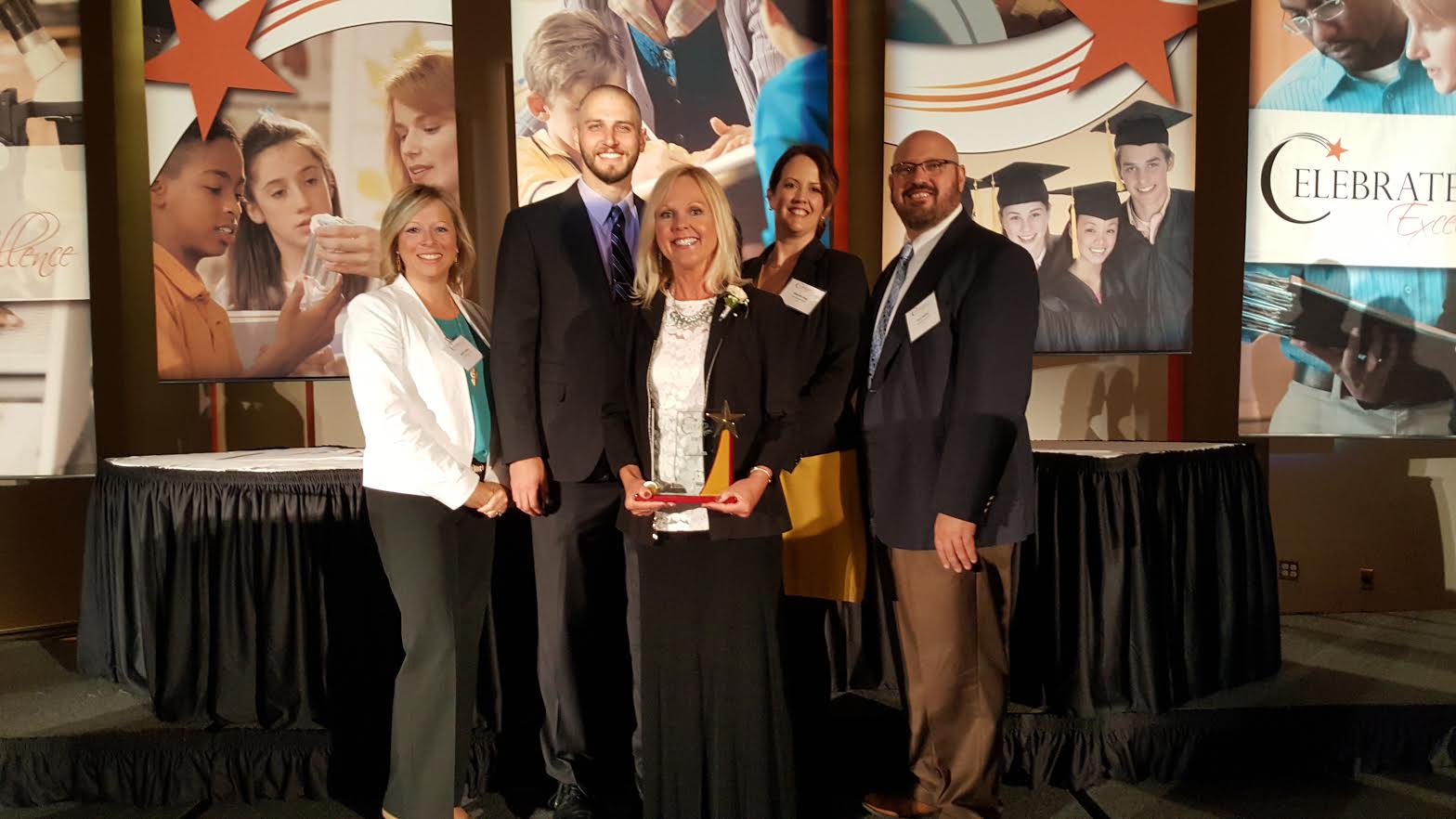 The Hamilton County Education Foundation (HCEF) presented the 11th Celebrate Excellence event before an audience of over 250 educators, friends, and family on Friday, May 12, at the Sharonville Convention Center. This annual event honors the K-12 "Educators of the Year" selected by each of the twenty-four public school districts in Hamilton County, including Mason City Schools (Warren County).
This year, Laura Graham, a first grade teacher at Three Rivers Elementary, was a recipient. This award came as no surprise to the Superintendent of Three Rivers Local School District, Craig Hockenberry, who stated "she represents our District at a level worthy of any award that has the word excellence in it."
When asked by the Hamilton County Education Foundation for words that truly define Laura Graham as an educator, Principal Adam Biedenbach wrote, "You have probably heard it said that it takes a special person to teach first grade. Mrs. Graham is one of those special people. In fact, she is the first grade team leader at Three Rivers Elementary. Laura not only loves teaching, she loves learning! So in her leadership role, it is not surprising that she encourages her peers to look for opportunities to grow professionally throughout the school year. Her grade level meetings are facilitated so everyone's voice is heard and students are the number one focus of each discussion. It goes without saying that Mrs. Graham is a highly dedicated educator. She displays a passion for kids (all of them, not just the ones in her class) and an equal passion for teaching. In her classroom, her students benefit from her caring demeanor and drive to continuously improve. There is no doubt that her students know how much she cares about them, from the time they walk in the door, to her great big hugs as they get on the bus at the end of the day."
As the District continues to take on new goals and implement a variety of innovative teaching strategies, it would seem difficult for a seasoned professional to adapt, let alone welcome so many new initiatives. However, for Laura Graham this is the exceptional possibilities that come with education and she accepts each new idea with excitement. Even during her last few weeks of teaching, Mrs. Graham continues to push the pace in her classroom and speak highly of the ever-growing and continued push for academic excellence at Three Rivers.
Assistant Superintendent, Tom Bailey, was asked to reflect on his many years working with Mrs. Graham. In doing so, he stated, "When speaking of Laura Graham and excellence it is very difficult to see one without the other. In eleven years of working with Laura, she has exhibited the highest level of excellence of any professional I know."
She has been a huge asset to Three Rivers and will greatly be missed, as Mrs. Graham will be retiring after 33 dedicated years of service to the District and the students of Three Rivers Elementary. All of Laura Graham's years in education (aside from this year) have been alongside Don Larrick. Mr. Larrick retired in 2016 after serving forty eight years in the Three Rivers School District; many as Laura's principal. When he learned of Mrs. Graham's award and her retirement, Mr. Larrick said, "Laura is an outstanding team leader and player. She is one of the most organized professionals with whom I have worked. Laura's positive attitude and engaging smile put her team at ease. After over thirty years in education, she is still enthusiastic about teaching and her students. She was always willing to move forward to accomplish the goals/changes presented to her."
Everyone at Three Rivers extends their best wishes to Mrs. Graham and her entire family towards a well-deserved, enjoyable retirement.