Side Menu Ends, main content for this page begins
Back to Side Menu (includes search)
Taylor Tradition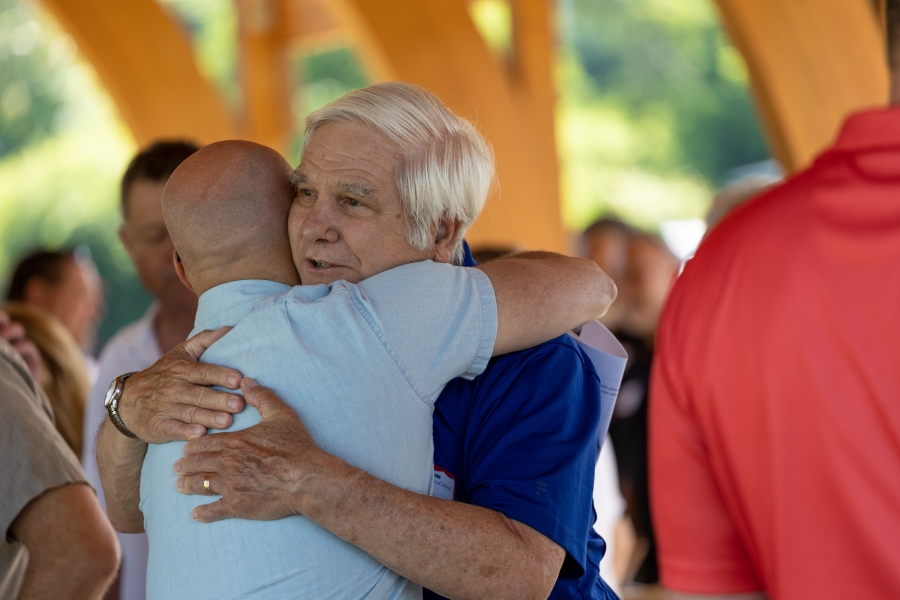 Professor Shawn Humphrey is a Taylor High School graduate who gives a lot of credit to his high school days and, more specifically, a couple of role models for his success. So much so, that he put together a reunion to honor the well-known and well-respected Coach Haag in June of 2022. In an article he wrote in 2019, Shawn reflects on a rough time in his life that could have quickly taken a turn for the worse. However, due to the kindness of his football coach, Mr. Jim Haag, Shawn's high school years were some of his best. Coach Haag pushed Shawn to be better on the field but nurtured him as a father-like figure off of the field. His stories of the various times Coach Haag stepped up to help him out in the absence of his father are a true reflection of Coach Haag's character and the overall tradition of Three Rivers' unique culture of being a school community and family.
During the June 4th reunion, Professor Humphrey was thrilled to see that Coach Dan Tuertscher made it to the celebration. Reflecting on the day, Shawn explained how Coach pulled him aside to tell him the following story.
It was during two-a-days. It was in the middle of August. It was hot. And, the practice fields at the middle school had turned into the "dust bowl". I was having a bout of heat exhaustion. But I would not tell anyone. Coach Tuertshcer noticed, dragged me off the field, and carried me into the showers. He blasted multiple showed-heads of cold water all over me and started stripping off my shoulder pads. While he was doing that, I was fretting about missing practice. I was only a freshman. I had been waiting to play Taylor High football since fourth grade. Coach Tuertshcer stands up (he's completely soaked) and says "Shawn, we already know you're tough. You've got nothin' to prove."
Shawn responded to the story Coach reminded him about stating, "I told Coach Tuertshcer how we all have memories that we keep in our personal Hall of Fame. I told him how that moment with him is one of mine. You don't have to be a head coach to have a lasting impact on your players."