Side Menu Ends, main content for this page begins
Back to Side Menu (includes search)
Taylor High School Senior Receives the Knights of Columbus' Youth of the Year Award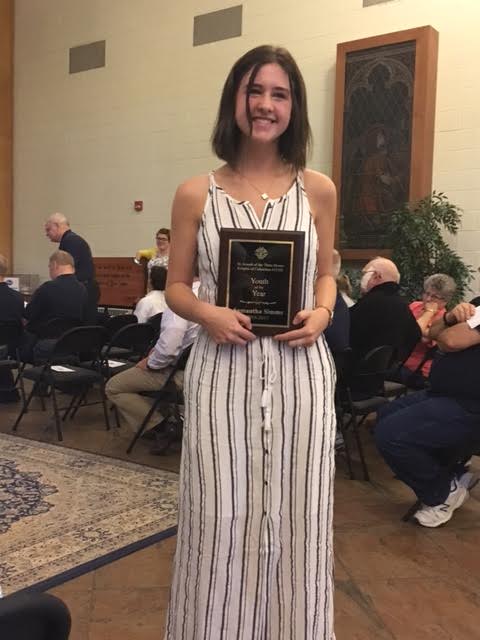 Taylor High School senior, Samantha Simms, was awarded the annual Knights of Columbus' Youth of the Year Award. Samantha is actively involved in a wide variety of clubs, activities, and sports in addition to her daily academic achievements, jobs, and personal hobbies.
Volunteering and participating in extra-curricular events and activities is not anything new to Samantha. Her freshman year she was already involved in Student Council, student PEP club (SWARM), women's choir, and the moving team from Old Taylor High School to today's PK-12 facility. Additionally, she managed being the varsity captain for both soccer and basketball and maintained grades which placed her on the honor roll while upholding two jobs as a babysitter and swim lesson instructor.
Hard work and dedication have become a way of life for Samantha Simms as she nears the end of her high school career. She will complete her time at Three Rivers Local School District involved in National Honors Society, a leader in a mentoring program, a Queen Bee volunteer, involved in a non-smoking campaign, and upheld her four year title as the captain of the basketball and soccer team. Samantha says goodbye to Taylor High School as Homecoming Queen, All-City Second Team in soccer, and Exchange Club Student of the Month; and she now adds the Knights of Columbus' Youth of the Year award to her extensive resume.
Samantha Simms will take her academic accomplishments of Honors, College Prep, and Advance Placement courses with her to Ohio State University as she intends to major in nursing.