Side Menu Ends, main content for this page begins
Back to Side Menu (includes search)
Summer Drama Camp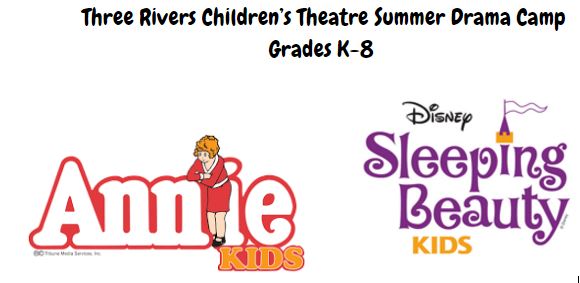 Three Rivers Children's Theatre Summer Drama Camp Grades K-8
2 Sessions: June 19-23 or July 10-14 9 am—2 pm - Monday-Thursday, 2:30—8 pm Friday
In District: $150 ($100 for additional siblings) per Session
Out of District: $175 ($125 for additional siblings) per Session
Students may register for one or both sessions
Camp and performances will be held at Three Rivers Educational Campus Performing Arts Center in Cleves, OH
About the Camp: This summer camp is designed for all students entering grades K through 8, regardless if they attend TREC, and who love to perform and are interested in learning about putting on a Broadway Kids production in one week! Students will learn the songs, dances and create costume pieces to perform for parents in a show at the end of the week. Each child registered will have a part – auditions are for placement purposes only.
The $150/175 cost for the week includes: a part in the show, a t-shirt, dinner and drinks before the show on Friday, and 2 tickets to the performance on Friday. Additional tickets may be purchased at the door for only $5!
The money is refundable only if camp materials are returned immediately, and if at least a week's notice is given. Refunds will not be given if camp materials aren't returned, if it's too close to camp, or if camp has already started. Refund check will be mailed.
About the shows: This year, the TRCT Summer Camp will be performing Annie KIDS for their first session and Disney's Sleeping Beauty KIDS for the second session.
Annie KIDS features everyone's favorite little redhead in her very first adventure. With equal measures of pluck and positivity, little orphan Annie charms everyone's hearts despite a next-to-nothing start in 1930s New York City. Annie is determined to find the parents who abandoned her years ago on the doorstep of an orphanage run by the cruel Miss Hannigan. Annie eventually foils Miss Hannigan's evil machinations, finding a new home and family in billionaire, Oliver Warbucks, his personal secretary, Grace Farrell, and a lovable mutt named Sandy.
In Disney's Sleeping Beauty KIDS it's Princess Aurora's sixteenth birthday, and three fairies – Flora, Fauna and Merryweather – must use their magic to save her from the spell of the evil sorceress, Maleficent! The fairies ensure that Aurora only falls into a deep sleep that can be ended with a kiss from her betrothed, Prince Phillip. To prevent Phillip from rescuing Aurora, Maleficent kidnaps and imprisons him. The good fairies are the last hope to free Phillip so that he can awaken Aurora.
For more information on either show, please look at the MTI Show website, http://www.mtishows.com/broadway-junior/shows, and click on Annie KIDS and/or Sleeping Beauty KIDS icons.
About the camp directors and staff:
Emily Hannon is a 3rd and 4th grade reading teacher at Three Rivers Elementary School. This is her third year working with the Three Rivers Summer Drama Camp, the Three Rivers Children's Theatre program and second year as assistant director of Taylor High School Drama. This is her first year as director for the Three Rivers Middle School Drama program as well. She has many years of community and educational dance, theatre, and vocal experience.
Robin Picchioni is an 8th grade teacher at Taylor High School and has directed the middle school/Three Rivers Children's Theatre program for eighteen years. Last year she began directing the Taylor High School Drama program as well. She has professional, community and educational experience to bring to your children. This is also her third year with the Three Rivers Summer Drama Camp.
In addition, Emily and Robin will also have high school assistants supporting the program, as well as college students majoring in professional theatre.
Expectations: The staff members of the TRCT Summer drama camp want your child to have a great experience, but your child must be able to adhere to some expectations. Please make sure your child is willing/able to do the following before attending:
Practice OUTSIDE of summer camp in learning songs and dance moves BEFORE and DURING the camp period (students will receive script and materials after receiving payment and registration)

Take constructive criticism from adults and high school staff

Memorize lines, songs and dances by Friday of that week.

Attend the summer camp for the ENTIRE duration for all of the days

Be a team player and accept their role graciously

Work well with others and not provide any inappropriate behavior

Stay focused and be willing to try ALL of the activities for the day

Respect the staff, student staff, students and facilities of TRCT

Bring a lunch, their script, a pencil and a water bottle to practices everyday

Be willing to help with clean up and set up for the performances
Schedule:
The typical schedule will be as follows:
Monday through Thursday
8:45 – 9:00 Drop off and play games
9:00 – 9:30 Meeting for the day
9:30 – 11:00 Choreography and music rehearsals
11:00 – 11:30 Lunch (pack a lunch!)
11:30 – 1:30 Blocking, choreography and music rehearsals
(auditions on Monday for placement purposes only)
1:30 – 2:00 Winding down and cleaning up
Friday:
2:30 – 3:00 Drop off and play games
3:00 – 4:00 Focus groups/notes
4:00 – 5:15 Final rehearsal
5:15 – 6:15 Dinner Party and games
6:15 – 7:00 House open for audience
7:00 – 7:45 Show time
7:45 – 8:00 Clean up
What's Next?
Fill out the registration form and send to TREC to the attention of Mrs. Picchioni or Ms. Hannon. For your convenience, there are two payment options. You may make registration payments through PayPal at https://www.paypal.me/TheAcclaimFoundation or by check, made payable to Acclaim.

Please note on the registration form which payment method you have selected. If paying by check, please enclose your check when your registration is submitted. Spots will not be "held." Registration is based on the order forms are received and spots are on a first come-first serve basis.
After receiving complete registration and payment, materials will be provided to you as soon as they are ready.
For more information, please contact Robin or Emily at TRCT@trlsd.org.
Click HERE to for registration information.