Side Menu Ends, main content for this page begins
Back to Side Menu (includes search)
President Visits Taylor High School
Posted on: September 7, 2017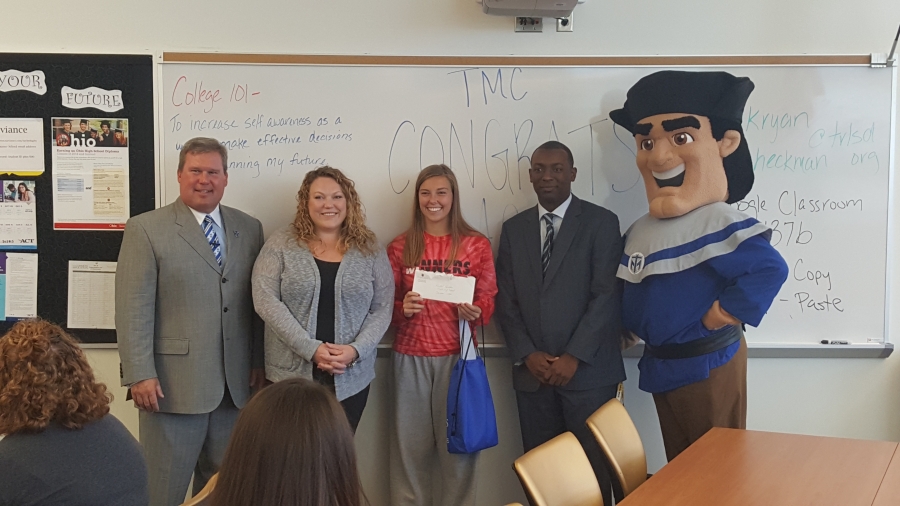 A typical Thursday at Three Rivers Local School District can mean just about anything; it seems something incredible is always happening with our students and today was no different. On September 7, 2017, Thomas More College President, David A. Armstrong, and the college mascot, "Tommy Mo" personally visited the Three Rivers Educational Campus to hand Rachel Hardtke a letter of acceptance to Thomas More College for the 2018-2019 school year.
Around 12:00, Rachel and the rest of Mrs. Thorman's class were invited to the media center for reasons unknown to them. As they arrived, Rachel was welcomed by Thomas More College President, mascot, and Channel 12 news. A little taken back, but all smiles, Rachel read the letter to her peers, smiled for pictures and did an on-camera interview.
As Channel 12 interviewed Mr. Armstrong about his visit, he was questioned as to why a President of a college would take the time to personally drive to Three Rivers to offer an acceptance letter to a student. The President explained that it is the "excitement in the students' eyes" that makes him look forward to the experience.
Mr. Armstrong was no doubt there for the purpose of surprising Rachel, but he also took the time to say hi to staff and students; even stopping briefly to address a fifth grade class about college and future goals.
Three Rivers Local School District appreciates Thomas More College's willingness to go above and beyond to make students' next step towards college that much more memorable.
The story will play on Channel 12 on September 7, 2017, at 5:55 p.m.