Side Menu Ends, main content for this page begins
Back to Side Menu (includes search)
Mayor John Cranley Pronounces a Day in Recognition of Taylor High School Athlete
Posted on: April 13, 2017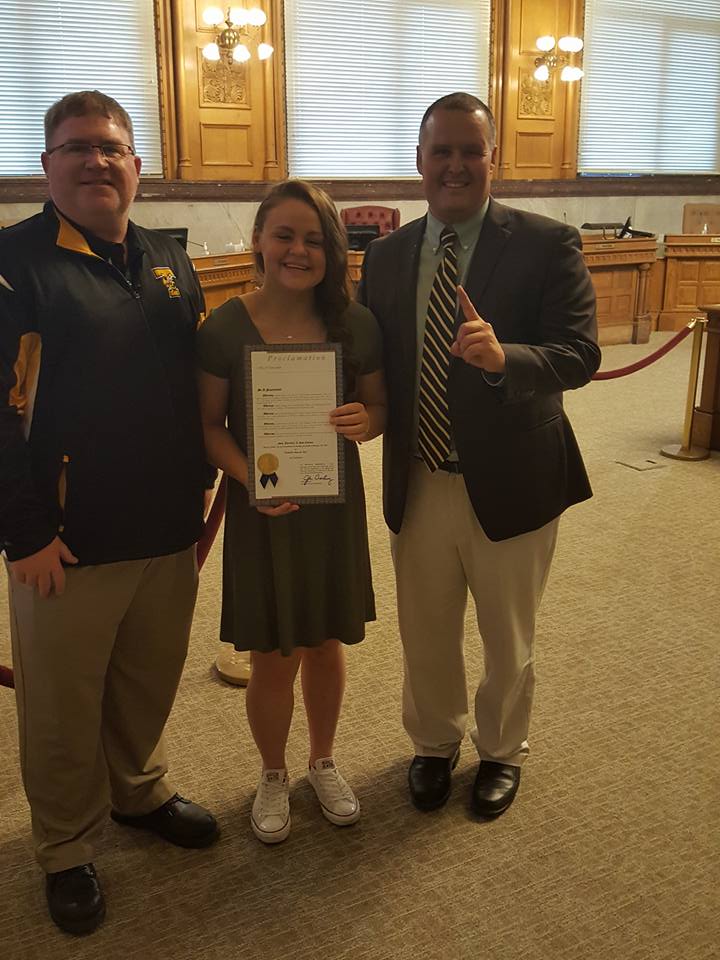 On April 11, 2017 Taylor High School student and athlete, Isabelle Murray, went downtown with her grandmother and picked up a proclamation of an incredible recognition for such a young woman. The proclamation, signed by the City of Cincinnati Mayor, John Cranley, proclaims that February 24 will from now on be named "Isabelle Murray Day" in Cincinnati.
During the 2017 State Swimming Competition, Isabelle won the championship in the 100 meter butterfly for Division II and broke the OHSAA 100 butterfly state record with a time of 54:37, becoming the first female swimmer in the history of Taylor High School to win a state championship. During Isabelle's high school career, she made four appearances at the OHSAA State Finals, competing in 12 OHSAA swimming events, earning six medals; another Taylor High School record.
Isabelle also became the 2017 CHL Champion in the 100 backstroke and 100 butterfly and currently holds the record in 100 butterfly with a time of 56:80. She is a four time CHL Champion in the 100 butterfly and two time CHL champion in the 100 backstroke.
These accomplishments are quite rare and exceptional for a high school athlete. Isabelle was honored and recognized by the Village of Cleves as well earlier this year. In March, Mayor Jan Rouse presented Isabelle with a proclamation stating that March 8 is "Isabelle Murray Day" in the Village of Cleves.
Taylor High School's Athletic Director, Larry Herges, is proud of Isabelle's accomplishments and looks forward to seeing her continue to do great things at the collegiate level.