Side Menu Ends, main content for this page begins
Back to Side Menu (includes search)
FC Cincinnati Visits Three Rivers Elementary
Posted on: December 17, 2021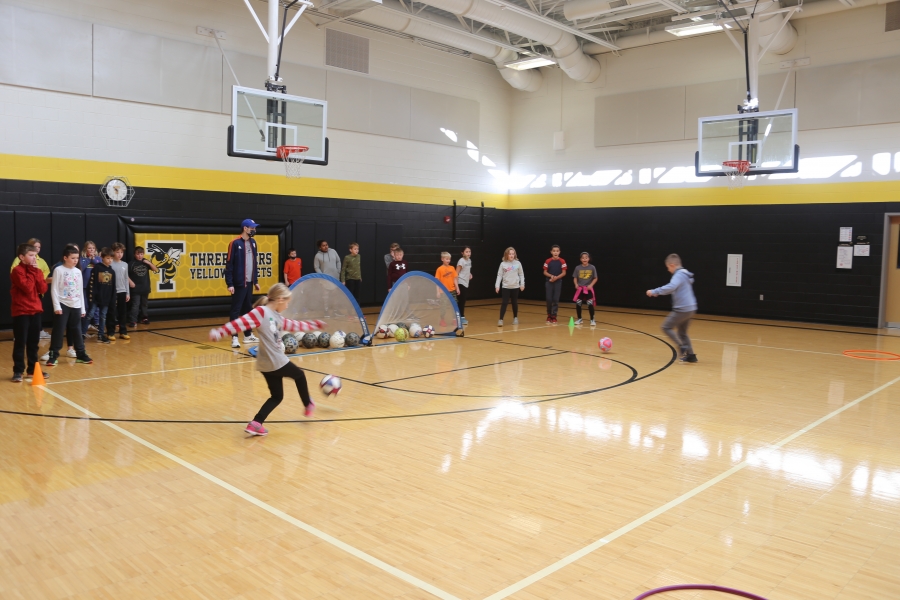 The week before winter break, Three Rivers Elementary students were given a unique experience during their physical education classes. All students welcomed the FC Cincinnati Foundation to Campus to learn about a variety of soccer skills. The students received a bonus when one of the instructors who came was Omar Cummings. Omar is a former FC Cincinnati and University of Cincinnati Bearcat Player. His career included 12 assists in 2009, which tied for the MLS lead. In 2009, Omar was MVP for Colorado Rapids. He was the MLS Cup Champion in 2010 and scored 14 goals that year. Needless to say, Three Rivers Elementary students were learning skills from some of the finest athletes.
All grades, kindergarten through fourth, were able to learn basic skills during their scheduled PE time. An added layer of excitement for Three Rivers Elementary students came into play as most of them know their Principal, Mr. Biedenbach's love for the sport. A college soccer athlete and avid FC Cincinnati fan himself, Mr. Biedenbach was also excited to bring such an elite organization to Three Rivers.
When asked about the experience, PE Teacher, Kyle Haney, stated, "This time of year students are usually focused on winter break and hyped up for the classroom parties. FC Cincinnati coming to our school made this week feel a little different this year. Students were so engaged and excited to participate in the variety of competitions that taught them new soccer skills. The leaders from the organization could not have been better; they really made it a special opportunity for the students of Three Rivers Elementary."
Three Rivers Local School District extends a sincere appreciation to the FC Cincinnati Foundation. The experience was top-notch and a wonderful opportunity for our students before winter break.