Side Menu Ends, main content for this page begins
Back to Side Menu (includes search)
Art in Root Comes to Taylor High School
Posted on: November 17, 2017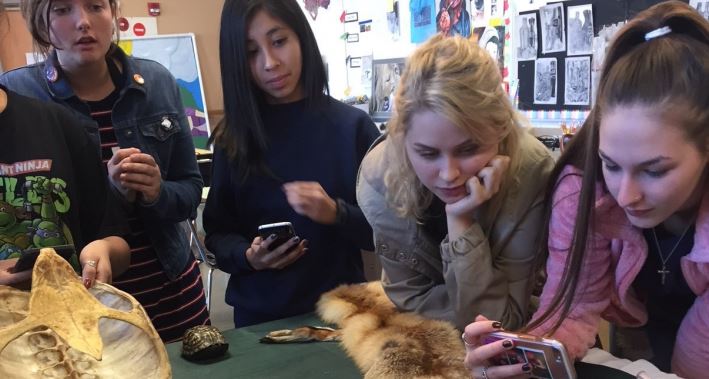 Cleves, November 2017 – At Taylor High School the teachers constantly push the pace in the art room by providing creative, real world experiences that truly develop young artists at a collegiate level.
Recently, the Great Parks of Hamilton County chose Taylor High School as one of only twenty schools to participate in their Art in Root program. Throughout this experience, art students will have opportunities to bring nature into their artwork by visiting local parks.
The first part of the program consisted of park employee, Heather Ficke, coming to Taylor High School art classrooms and talking about animals. With her, she brought a variety of skulls, shells, and coats of animals who find their habitat in Hamilton County. She discussed the physical attributes of each animal, explained their habitat, and led a discussion with the young artists about various traits from each deceased animal. Following the presentation, Taylor students created pictures from a variety of angles and focused on texture and pattern to bring the animals into their own artwork.
The program is still in the early stages for Taylor High School, but the students are already excited and looking forward to what comes next. Taylor High School student, Elizabeth Voss, said, "The art in root program is a great opportunity for all of the AP Digital Photograph students. We had the opportunity to take photos of animals, which helped build our variety of photos. We also were able to learn about the animals we photographed, which is something that isn't taught directly through science classes! It is a great opportunity overall, and I can't wait to continue with the Art in Root Program!"
In February, the same students will get the opportunity to visit Miami Whitewater Park. While there, students will take pictures of wildlife and draw the photographs in class.
When the program wraps up at the end of the school year, students will have the unique opportunity to submit their work in the April Art in Root Show for a chance to receive a scholarship for their talent.